Jazzy Girl, as I have mentioned in the past, is an artist. She has a Deviant Art account that I bought for her and has been showing in the VCon art show for the last 3 years. She's managed to sell several hundred dollars worth of art, and not just to family friends. But I digress.
The kids snuck off to the mall together on Saturday for nefarious purposes that they would not disclose - therefore, something related to mother's day. They were very sneaky when they got home for a while, then I was suddenly ordered to my room. After several minutes, they allowed me out and sent me into the kitchen, where I found this:
My New Coffee maker, complete with Rodney McKay, who hangs perilously by the back of his trousers.
And Rodney hanging out with me on the laptop.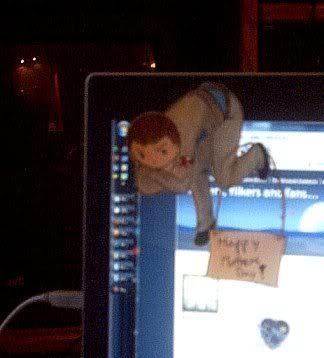 Yeah. The coffee maker is awesome, it has a timer so it will be ready and waiting for me at 5:15 am when I stumble down the stairs. But Jazzy had me with the Rodney drawing. OMG. I love my kids So MUCH.
So, my kids are pretty awesome. I mean, granted they have their moments where they fight like cats and dogs and I would like to trade them in for less noisy models or find a way to upgrade the firmware, but mostly I'm pretty happy with them.
Current Mood:

happy