So, GIP!


Rodney, thinking about John. *sigh* OMGtheirloveizsoslashtastic! *cough*
So Friday I had
kortai_kirinan
over and we watched "Atlantis Rising". He's listened to me
rave about my obsession with my super sekrit boyfriend Rodney McKay
talk about Atlantis, so he came over to watch the damn show and find out what the hell I have been talking about. Slowly, but surely, I am dragging all my friends into this fandom with me. [queue maniacal laughter here]
First we made dinner - he helped. For this alone, I'll keep him. Burgers and fries; I made him cut up the potatoes with the handy dandy Starfrit slicer thingy. It really does work! So, of course, my kids adored him, and Monkey Boy just about talked his ear off over wanted to tell him all about his favorite video games and Sonic the Hedgehog and god knows what else. I had to shoo MB out of the room.
kortai_kirinan, in the kitchen, slaving away... yeah. Okay, not so much.






Surprise!


So I think he's hooked, but he has other things on his plate of 'to be watched' shows just like I do. So, I guess there's nothing for it - I'll just have to have him back over again. I'll make sure the next time that I allow some time so he can play some video games with the kiddies first.
Saturday, Long and McQuade had a Grand Opening for their new location on Terminal Ave. in Vancouver. There were some awesome door crashers, but I was not getting into line at some godawful hour for a Fender. I don't play electrics and I don't plan to start any time soon.
Monkey boy has been talking about getting a Ukelele for the last couple of years since this is the instrument they teach in music class at his school. And I figure, okay, lets do it. They did have some, but they were $200. The guy found me one of the $35 ones, but they were really crappy. There was one other soprano Ukelele that was $170, so I looked at that. Monkey Boy strummed it and said, "Oh this totally out of tune," and then right there, with no tuner, in the busy acoustic section with at least 5 other people playing various guitars, the kid
tunes it by ear in about 1o seconds flat
. As if that's not enough, now that he's satisfied with it, he starts playing his little songs that they've been teaching him at school, the ones that he played in the Ukelele festival a couple weeks back. And I am listening, and damn it if he not only has it tuned, but it's tuned to the correct pitch.
::blink::
Now either that's a fluke, or the kid has got damn near perfect pitch. Who knew?
I bought the $170 Ukelele. He's been playing it ever since.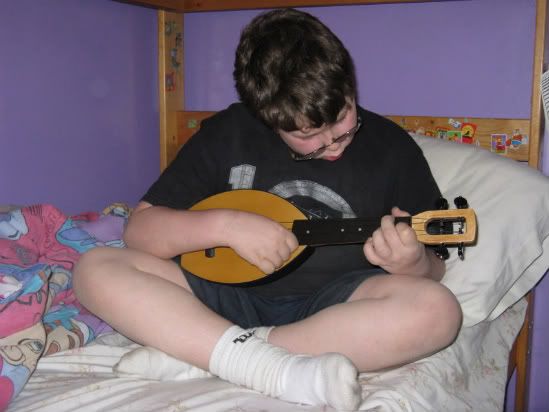 Future star of the Grand Ole Opry? You be the judge. Also, yes, he *is* wearing the Stargate SG1 10 Seasons t-shirt. It's his favorite.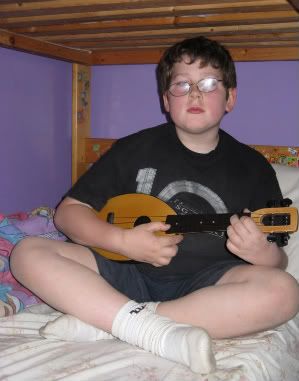 Of course, I started looking at guitars too. I have been spoiled by playing the
Ovation Celebrity
that
pondside
loaned to Jazzy Girl when she started taking her guitar classes. I bought myself a
nice sturdy Yamaha F310
about 5 or so years ago. I was just starting to get good enough that I needed a decent instrument to play. It was both affordable *and* eminently playable. I remember trying out a bunch of more expensive guitars and being surprised at how much I *didn't* like them.
So this time, I though I would consider something more expensive. All things being equal, a
Larrivee
would be my first choice, but I'm not independently wealthy. More's the pity. I vaguely recall someome saying that anything under $500 is pretty much the same, but I thought that I would set my sights on $300 and see what I could find.
I checked out a couple of Epiphones I had looked at online - I tried the
Hummingbird
and the
Dove
. And while they are very pretty, and both had a very bright tone, I find that I don't particularly care for the brassiness of the sound and the action was so high that I would either need to get it lowered or end up with a really aggravated case of carpal tunnel.
So then the guy hands me something I have not seen before, a
black Guild Dreadnought
, and starts to tell me how he doesn't see a lot of difference between it and the ones I was just playing. Oh. Dear. God. The noise he was making just faded into the background as I played it. It was *so* far beyond those Epiphones it wasn't even in the same ballpark. OMG. I think I was drooling. When I spied the $1800 price tag I told him to take it away where I couldn't see it anymore.
W A N T!!
Anyway, moving on to things that I could actually afford again, I nosed around through this and that until the guy points out this
Art & Lutherie
that was on sale. And once again, it's the same thing that happened with my Yamaha. This guitar was $280, with and additional %20 off, so a good $100 cheaper than the Epiphones, but I liked the tone better, and it had low action. It still has a nice, bright sound, but not brassy.
I picked it up and put it down a few times. Tried a few others, looked around, went back to it and played with it some more. I asked if they had it in any other colours, and they did - but only the
Antique Burst
which was a more expensive finish ($300+) and not on sale.
Yeah. It was inevitable. It followed me home and now?
It's mine.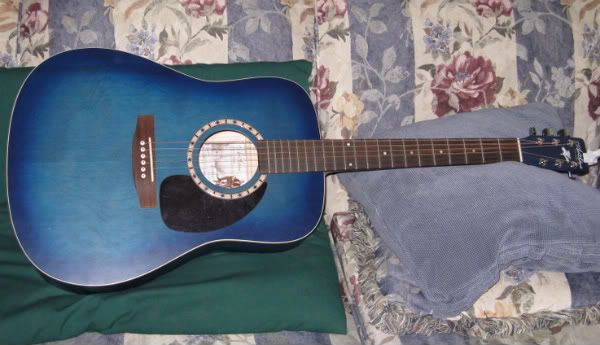 I haven't made an icon in *ages* and I usually don't like to bother anymore since there are all these incredibly talented icon artists out there, and I feel completely outclassed by them. But whatever. I made one anyway. I have a very O L D version of PSP, but it still does the job I suppose.