He's a real foodie, I get it. And I like food, seriously - but I'd only ever been out to a truly fancy, fine dining type restaurant once in my life. It was about, oh, 18 years ago or so, and
retro_rider55
took me out to see "Bye Bye Birdie" at the QE Theater. We went for dinner at the Four Seasons before hand, and it knocked my socks off. I was wined and dined in style and luxury, and it made a lasting impression.
So last night I got spoiled again. Interestingly enough, it wasn't even for me - it was for
solomons_pond
's birthday.
pondside
invite me and Jazzy girl to come with them to celebrate. Almost the entire Pondside Clan was there;
mystic_winds
,
pondside
and Densie, as well as a very special guest,
persis
, who flew from Boston just for the weekend.
We went to
Restaurant Connor Butler
at the foot of the Granville street bridge. We stepped from the icy cold into a warm, inviting room with organza and velvet curtains dressing the entrance and gorgeous ambiance.
Oh, dear God in heaven. It was a hedonistic tribute to decadence.
Versace dinnerware, linen napkins, real silver flatware.
Lobster morsel, compliments of the chef.
Appy tray with prosciutto cups, lox and blackberries.
- Wine - Gewurtztraminer
Salad with lobster, chèvre, citrus segments and white truffle oil.
Dungeness Crab Bisque w/ crab, crème fraîche and caviar.
- Wine - Riesling
Pheasant with fresh noodles, mushrooms parmigiano reggiano.
(alternate of sweatbreads on a bed of onions - I skipped trying that)
Dark chocolate mousse, with biscuits, fudge and Marcona Ice Cream
Dessert tray with french truffles, dates and biscotti
- Coffee, fresh cream
Oh my god. I *grok* it now. I would probably be very willing to do something quite questionable for someone I might not ordinarily be willing to engage in impetuous acts with if they took me out for this kind of dinner.
Obligatory SGA reference: I totally want to see Rodney take John to this restaurant and feed him decadent, rich food, ply him with $100/bottle wine and break down his defense till he is a helpless, caught up in only what he can taste, smell and feel, a veritable kaleidoscope of sensual experience.
ETA: I posted this request as a
prompt
for the
"John/Rodney—It's only just begun..." post-SGA McShep Fest
. Of course, if more than one person were to decide that they were interested in writing this idea as a fic, I would never complain...
Driving back was a bit of an adventure. In the sense that drivers in Vancouver generally spaz out at the sight of a snowflake, and a when whole crapload of them descend at once, it becomes somewhat chaotic out there. And boy am I glad that *I* didn't have to drive in that.
Got home eventually - it took
solomons_pond
about 40 minutes to get back to my place when it had maybe taken us about 10 minutes to drive to the restaurant.
I have to admit, that though it is cold and unwelcome,
it is kinda pretty...
Snow looks pretty when it falls - not so much when it sticks to the ground.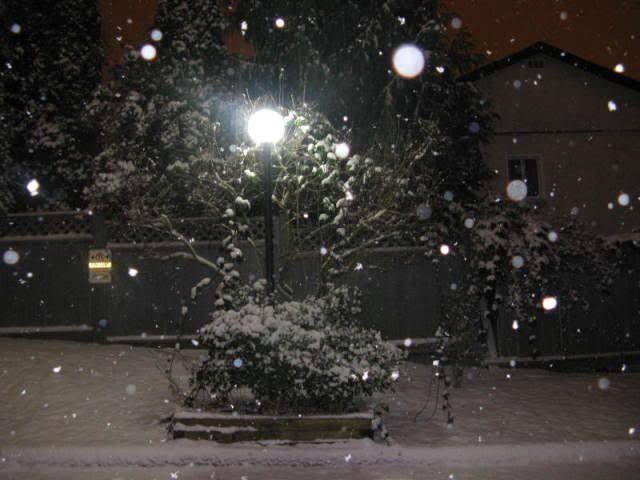 Sometimes I read Joe Mallozzi's blog and I think, "Eh, why the hell is he always ranting about his food. Dude. It's *food*, get over it."
Current Mood:

mellow